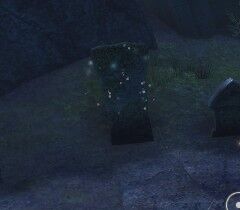 Objectives
[
]
Help Tristopher's Client by altering dates on

gravestones

.
Summary
[
]
Tristopher Chettlebell
I have a… friend who has hired, err, I mean asked me to help prove her birthright, lest scurrilous rumors keep her from marrying well. Unfortunately, it appears that some rapscallions are so determined to slander my friend that they've altered the dates of birth and death on several gravestones to discredit her claim to noble descent.
You see a capable and enterprising person. Perhaps you could assist me by correcting some of those headstones?
Steps
[
]
"Correct" Gravestones (0/5)
Return to Tristopher Chettlebell
Completion
[
]
Tristopher Chettlebell
This is wonderful news! With these changes, err, "corrections", all barriers fall away to Miss Monini's entry into the nobility.
I will report to her at once that the rumors of her low birth can now be disproven once and for all.
Walkthrough
[
]
There is no walkthrough for this quest yet. You can help Neverwinter Wiki by writing one.