Demonic Summoning
| | |
| --- | --- |
| Location Type: | {{{type}}} |
| Within: | {{{within}}} |
| Neighbors: | {{{neighbors}}} |
| Contains: | {{{contains}}} |
| Levels: | {{{levels}}} |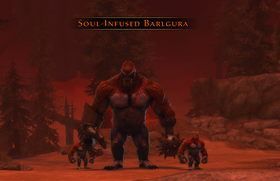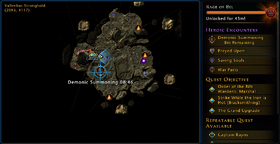 Demonic Summoning is a Epic Heroic Encounter in Vallenhas.
Description
[
]
_____
A massive Barlgura has been summoned to destroy the stronghold. It must be stopped!
Steps
[
]
Engage the Barlgura
Defeat the Barlgura
Time Remaining: 10:00
Encounter
[
]
To complete this encounter defeat Soul-Infused Barlgura.
Rewards
[
]
50[Chaotic Writings]
10[Seal of the Fallen] or if capped 10[Seal of the Deep]
500

Refinement Points
Soul-Infused Barlgura chance drop of Reinforced Metal Rod, not the Heroic itself.
Note
[
]
Timer doesn't start till a player gets close.
Coordinates (2125, 3575)
Typically known as "Ape" in chat.