Dragon Timers
Dragon Timers occur in any given Instance where a Heroic Encounter with a dragon is taking place.
When your character arrives within the area of the dragon's heroic encounter, a timer will appear (A) under the compass. The timer will count down from 20 minutes, either indicating the time until arrival or the time until the dragon escapes.
It is considered polite to ask for assistance by typing any of the following in chat;
inv to dragon < 3 - This indicates the player is interested in fighting any dragon within the next 3 minutes or less.
inv to #4 - Tells players in instance #4 to invite the player.
dragon up #11 - This says the dragon has arrived in instance #11.
#3 down - The dragon in instance #3 is dead and won't be back for 20 minutes.
timers? - A request for all instances to report time until arrival.
#8 in 3:20 - The dragon on instance #8 will arrive in 3 minutes and 20 seconds.
It is rude to do the following;
spamming invite requests
requesting to join an instance that is not full
asking for invites while currently killing a dragon
inviting players to an instance with more than 5 minutes until arrival
The instance you are located within can be changed using the blue jewel (B) on the upper right of the compass. This button will bring up the Instance Menu. If the instance is full, you can request a player in the instance to invite you to their party. Once inside the party click on the player portrait icon to transfer to their instance.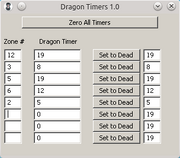 While there are many free apps available that will allow you to set multiple timers (stop watches) for different zones, Dragon Timers 1.1 is specifically made for this game. It is a stand alone GUI with 8 stop watch timers to audibly notify the player when a dragon is about to spawn at 3 minutes.