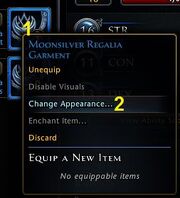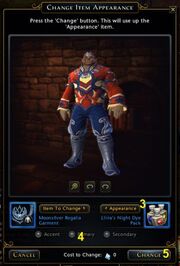 Dyes and Dye Packs are items that are used to change the appearance of Armor and Fashion Clothing. They come in a variety of colors. Since Mod 21, previously single-use consumable items, they now unlock the corresponding color in a grid filled with every Dye colors and can be used/removed as will from any armors or clothes.
Each wearable item has three colors channels: primary, secondary, and accent, usually corresponding to the largest, second-largest, and smallest sections of surface area. A single dye will change one color of one item, where a dye pack will impact all three colors of a single item in a preset array (though you can change individual color channels later after it has been dyed). There was also a [Dye Remover] that would eliminate all altered colors from an item. Dyed colors transfer over with an item's appearance when it used as the source in change appearance. This is purely cosmetic and has no effect on gameplay.
The ability to use (or remove) dye from Weapons was initially present, then required a workaround, and as of Module 2: Shadowmantle has been totally locked out. Existing dye on a weapon applied previously will still usually transfer to new items during Transmutation, and care should be taken as there is no present way to remove such dye to get the default colors.
Instructions
[
]
Right click on the item to be dyed to open the item drop down menu.
Select "Change Appearance" from the item drop down menu to open the "Change Item Appearance" window.
Place the dye to be used in the Appearance slot on the right side of the "Change Item Appearance" window.
If it is not a 3 color Dye Pack, select which color channel to apply the dye to: Accent, Primary, or Secondary . WARNING - It is recommended to always move the settings between back and forth between the channel options as sometimes the selection may be initially be set to an incorrect value but not reflect it in the buttons or preview.
After reviewing the image of the changes on your character in the large window, click "Change" to open the final warning prompt.
Click "OK" on the final warning prompt to finalize the change.
Table of Dyes
[
]
Samples of the Multi Color Packs
[
]
(Note: The material of the armor slightly affects coloring - Results may vary.)
Crafted
[
]
Event Linked
[
]
Purchased
[
]
Note: As of M17, the above information is no longer valid and needs updating to the current system.