Guilds are player-formed organizations composed of players that gain certain in-game features, such as special guild chat channels and shared bank storage. Guilds form for a variety of reasons. Casual guilds are usually formed to simply enhance the social nature of the game and perhaps to offer help to players in need, while other guilds may form to focus on a particular type of content, such as Skirmishes, Dungeon Delves, or player-vs-player. Roleplaying guilds form to bring players together who enjoy roleplaying their characters. Different guilds can band together to form an Alliance with up to 13 member guilds.
List of Active Guilds
[
]
A
Alwayswinter [PS4]
Appaloosa Gang
ASBO
Ascent [PS4]
ASYLUM
ANAT0LIA
ApeX Alliance [PS4] Recruiting
AisForAwsum [XBOX]
Amigos do Bolo
Anarchy Circus
The Arcadians [XBOX] - https://www.arcadiansguild.com/
Arch Of Chaos
Army of LODIS GH11 [XBOX] Recruiting
Asatru Kindred [XBOX] Recruiting

B
Beluga Aérea [PC] Recruiting
Bahamut Inquisition [PS4] Recruiting
Bankers United: The Iron Bank & The Platinum Bank
Bards of the Underdark [PS4] Recruiting
Beautiful Chaos [XBOX] Recruiting
The Brothers Grim [PS4] Recruiting
THE BAR [XBOX]
Beholder Zombie [PC]
Besser Du als Ich [PC] German
BlackDawn [PS4]
Black Vanguard [PC]
Black Lotus [PC]
The Black Coffin Founder: BackSurgeon
Blood of the First Men [PC] Recruiting
Bloodrage [PS4]
BlueBlood [XBOX]
The BOoRK of the HBI [XBOX]
Bright Bldes [PC] English
Brotherhood of Light [PS4]
The Brotherhood of Mann
BrulParra [PC]
Badbreeds [PS4]
Beards N Beauties [XBOX] Any lvl, Recruiting

C
Casual Adventurer's League [PC] English, casual, any level, recruiting
Chronic Legion [PC] English, No Requirements
Celestial [PC]
Company Of The Blood Moon [XBOX]
Clan Helgard
COLD ZERO [PC]
Convocation of the Ents
Chains of Ouroboros [PS4] English, casual, any lvl, currently recruiting
Chaos Incorporated
Chaos United
Cult of Mattachine [PC] [FAQ]
Casual Dailies [XBOX]
Choas Lords [PS4]
Commanthor Sentinels [PC] English, casual, any lvl, Mod 16, recruiting
The Crimson Orchids [PS4] English, Recruiting [Apply]
Cryptic Souls
Crit Thy Pants [XBOX] any lvl new guild
Cult of Neverwinter [XBOX]

D
ф D e i t y ф PT-BR | PT-PT
DeathBlow [PS4] English, casual, currently recruiting
Death Plague
Demonic Nightmare
The Dawn
Dead Drop [PS4]
Dead to Rights
Dept. of Human Resources [XBOX] [Recruiting]
Diz Corp
Demoni e Angeli [PC] Italians
The Defenders Of Eternal Summer
Dracolich [PS4] Recruiting
DRAGONSFURY [XBOX]
Dragon Age [XBOX]
Dragon Knights Of Kelmdalar [PC] Recruiting
DRAGOON ELITE [XBOX] Recruiting
Drunken Demons [XBOX]
Disciples of Lodis GH8 [XBOX] Recruiting

E

F

G
Galvin's Knights
Gaming Geeks
La Garde Noire [XBOX]
GNE (Greatest Newbs Ever)
Gods of Neverwinter Founder: Khensu Blackblood
Gods Of Silence [XBOX] Founders: Dr Puggle & SumQuodSum65 English Recruiting
Gonevil
Good Time Gamers [XBOX]
The Great Realm of Bacon The GRoB Facebook Page
Grimm Crimson [PC] Recruiting
Grimm Crimson II [PC] Recruiting
H
Heralds of Lurid Dusk [PC] English
H420ppy Inc. [PC] LSDMT Alliance
Horde House [PS4]
House Mormont
HozenBros [XBOX]
Hungarian Knights Active since 2013
Hunter's Dream [PS4] Recruiting
Hunters of Milfs
Hells Angel
H3llsWarriors
Die Hüter des Lichts [PC] Germany / Leader: Elijah Windemear@kirawindemear
House Whitethorne [PS4]
I
Imperium [PC] See for yourself who we are and what we are all about! You can find us on our Discord - 24/7 - Click here https://discord.gg/rRFpDsF
Infernal Paragons [PC] (site)
Injustice League [PS4] All Players of All Levels welcome. Chill,Friendly,Easy Going,Laid Back environemnt. Alliance wide games & Giveaways
Insane Asylum
Ishgard EU/EN
Inappropriately Feytouched [PC] Recruiting
Irmandade de Sangue [PS4] Recrutando
Icewind Dale and Chill
Immortal Empire [PS4] EST English Leader Siren@ogsnipersiren Website
J
JOVI [PS4] The only unofficial Bon Jovi guild in Neverwinter

K
Kekskomplott [PC] German, Suchen Member (@mutzelichan, @calli1233)
Kesatria Republik Lama [PS4]
Killers Only Recruiting
Kingdom of Deception [PS4] Recruiting
Kingdom of Valhalla [PS4]
Kingsman Gaming
Knights of Empire
KNIGHTS OF LODIS [XBOX] GH20 - Recruiting
Knights of Lordaëron [PC] Recruiting
Knights of the Grove [PS4] Recruiting
Knights of the Mythical circle
Knights of the New Order [PS4] Recruiting, Friendly, Fun, Family Gaming Environment
Knights who say nee
L
Lords of The Nine [XBOX]
LEGION OF GOD SLAYERS [XBOX]
Legion of Gamers [XBOX]
Limitless [PC] English, Casual
Linkdead Often [PC] English, Casualt - new guild. All players welcome
LostWrath English, Casual, Currently Recruiting
L'Ordine del Chaos [XBOX]
Lowered Expectations [XBOX]
League of Assassins [PS4] Recruiting
Lock City [XBOX]
Los Angeles Caidos[XBOX]

M
Midnight Bayou [PS4] Recruiting (Class Training for End Game Content, Alliance Giveaways & Raffles) Facebook
Mystra's Embrace
Mythic Nightmares [PS4]
Guild MVP [PS4] (stands for Most Valuable Player)
Midnight Express [PC]
Militibus Ex Familia [PC] All players welcome, Wholesome family environment

N
Neverwinter's Legends [PS4]
Neverwinter Order [PC] Italian, recruting, Ts
Night Walkers [XBOX]
Nightswatch [PC]
Nikostratos Since May 2013
No Man's Realm [PS4]
Not My Day Job [PC]
Nords of Neverwinter [PC]

O
On Fridays We Wear Pink
Order of the Crimson Blades
Oblivion Order [PS4]
Order of the Pandora Knights Any level players

P

Q

R
Reapers Of Hell [PS4] Actively Recruiting on pS4
Raechend Revolte
Reckless Rejects Mercenary guild
Red Dawn [PS4] Recruiting Have PS4 Community Page
RedXOasis
Renegados_BR [PS4] Recruiting
Ride or Die [PS4]
Rise from the Ashes [XBOX] Recruiting - McGinny86
RISING EMBERS [XBOX] Recruiting
Risingstar
ROYAL [PS4] Recruiting
Recon 315 Upcoming guild. Now recruiting players. <Now looking for Alliance guilds>

S
Sacred Convergence English, Casual, Currently Recruiting Guilds for our Alliance
Scattered Empire
Swole Patrol
Shadows of Faerûn [PS4]
Sick Empire [PS4] - Watch the team at work
Seven Deadliest Sins [PS4]
Swexy Knights [PS4]
Shadows of the Lost Age
Shava's Guild of Mercenaries Follow us on Facebook
Sleepless Knights [XBOX]
StormLight [XBOX]
SecretCiti Templars
Stingers Rage
Sparrow xkillersx [PS4]
Skeleton Inquisition [PS4]
The Sword Coast Knights [PC]
Sightless Embers [PS4] Family Friendly - Recruiting
The Goonies
Stalwart Adventurers Inc. [PC]
Soldiers of Defiance
T
The Silver Order [PC] Recruiting
The Emerald Knights [PC] Recruiting
Terran Protectors
That One Guild of Misfits [PS4]
The Avengers [PS4]
The Exalted Guard [PS4]
The Forgotten Company
The Fearless Rebels Recruiting [PS4]
The Holy Crusaders Crusaders Alliance
The Jade Phoenix of Anthalore
The Knights of Evenwood [PC] Family Friendly, Casual - Recruiting
The Knights of Ravenloft Recruiting
The Nation [XBOX]
The Neverwinter Nine [PS4]
The Nightmare Court Facebook
The Never Throne [PS4]
The Misfit Toys [XBOX] GH 20
The Pain Train [XBOX] Any level acceptance, mic required Xbox 1, msg DemonKyub gamertag to join
The Phoenix
The RNG SCREWED ME [PS4]
The Tempuran Knights [XBOX]
The Crimson Riders [PS4]
The Toon Squad
The Horde Of The Ethereal Vale [PS4]
The Death Squad [XBOX] Drunk
The End Of The Internet [PC] Discord 2/3/2020 Active and recruiting
The Wolf Den[PS4] Active, Friendly, Helpful, Social, Family-like Environment.
Thultanthar Enclave [XBOX]
TNWO [PC]
The Dauntless [PS4]
The Rouge Nation [XBOX] Any level acceptance, mic required Xbox 1, msg Warbrine gamertag to join
Timed Out [XBOX]
Thunderfists [PS4] Recruiting
The Sith Empire [PS4] Recruiting, Friendly, Fun, Family Gaming Environment
The Reaping Eagles [PC]

U
Unbound
Unrelenting [XBOX]
Unicorns of War [XBOX]
V

W
Warriors of Chaos [PC]
War Wolves [PS4]
White Lotus [XBOX]
Wolves of Furor Celtica
WOOKIE TANGO FOXTROT
Wayward [PS4]
We Clear Lobbies

X
wolf's playground [XBOX] Recruiting

Y

Z
Zeal dragon warriors [Ps4]
Recruiting
Starting a guild
[
]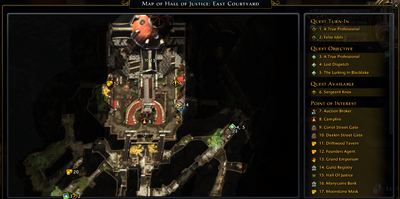 In Protector's Enclave, go to the Guild Registry on your map and talk to the Guild Registrar. In order to start a guild in Neverwinter, you need a full party of players not already in a guild that are on the same map. Any member of the party can talk to the guild contact and start the guild with all party members. The player who spoke to the contract will be given the maximum guild rank, and the others with be given the lowest rank. Checklist for starting a guild:
Full Party – 5 players
All Members of the Party are on the same instance of Protector's Enclave
All starting members have to be level 15 or higher
Guild panel window
[
]
The guild panel window features many tabs:
News
Strongholds
Events
Roster
Information
Settings
Alliance
News
[
]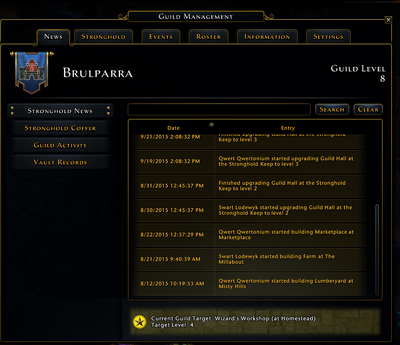 The news tab has four logs.
The first one presents the Stronghold News where stronghold based events are displayed(e.g. start and finish of stronghold structures).
Next we have the log of the Stronghold Coffer
The third is for the guild events (creation, join, promotion, etc.).
The last one summarises the log of the guild vault.
Events
[
]
The events tab enables allowed members to create and edit events.
Creating an Event
[
]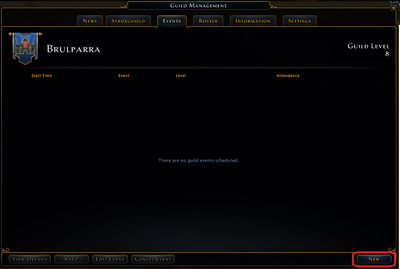 To create a new guild event you need to click on the new event tab in the right hand corner of the guild events tab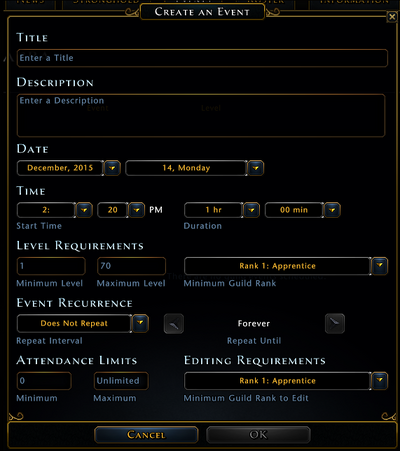 Once clicked the create a new event form appears. This form requires the following information:
Title - Title of the Event
Description - Short Description of the event.
Date - Date of the event (this will adjust to the players time zone)
Time - Time of the event (this will adjust to the players time zone)
Level Requirements - Minimum and maximum level of players as well as minimum guild rank required to participate in the event.
Event Recurrence - Is this a one-off event or will it repeat.
Attendance limit - Minimum number of guild members required for this event.
Minimum Guild Rank Edit - The minimum rank that is allowed to edit this event.
Only players that have the right to create guild events can create events

Viewing Details of an Event
[
]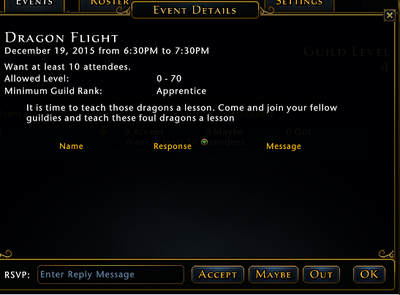 To view details on a event click the view details button in the left bottom of guild events tab.
On this form you can see alist of players that have already RSVP'd for the event. You can also use the section at the bottom to indicate whether you will be joiing in or not.
The options are :
RSVP - The message you would like to add to your RSVP (e.g. Reason you can't join.)
Accept/Maybe/Out - Choose whether you will be joining or not.
OK - Close form without RSVP'ing or altering previous RSVP
Roster
[
]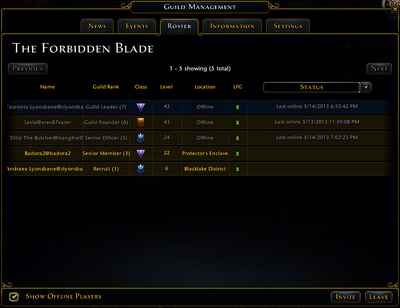 The roster tab gives the full list of guild members, their rank, class, level, location (if online), status and eventual comments.
The members with permissions can set comments, change ranks, kick members, invite members or leave the guild.

Information
[
]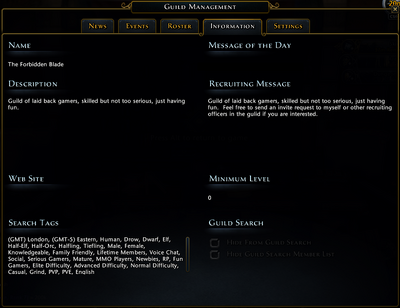 Here you can customize your guild's name, message of the day, description, recruiting message, web site, minimum level and search tags.
The search tags are particularly important because players can search for guilds based on the tags you choose.

Settings
[
]
This panel lets you set all the permissions.

Guild bank window
[
]
The window of the guild bank that can be accessed in Protector's Enclave ( next to the Guild Registry and at the Manycoins Bank ) or in the Stronghold this window offers several features.
Stash
[
]
A guild bank can contain up to 8 depots; each depot contains 48 item slots. Depot 1 can also be used to share gold.
Permissions
[
]
Admins can change the depot name here and set permissions for sharing items and gold.
Protocol
[
]
All sharing activities (donations and withdrawals) are logged here. Has a search engine.
Depot shop
[
]
Depot 1 costs 150,000 AD; depot 8 costs 8 times more.
Deposit 2 costs 300,000 AD
Deposit 3 costs 450,000 AD
Deposit 4 600,000
Deposit 5 750,000
Deposit 6 900,000
Deposit 7 1,050,000
Deposit 8 1,200.000
Alliances
[
]