Human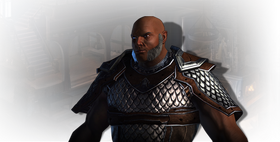 Humans are one of the playable races in Neverwinter and will be available at launch.
Description
In-game: "Of all the civilized races, humans are the most adaptable and diverse. Human settlements can be found almost anywhere, and human morals, customs, and interests vary greatly."
Humans are a diverse people in both appearance and lifestyle. They are adaptable and capable of surviving in various climates, allowing the race to excel in almost any conditions. Most human adventurers become fighters or rogues, but some devote their lives to the study of the arcane or the piety of the clergy.
Neverwinter was originally a human settlement and is currently home to many refugees fleeing the Cataclysms and Spellplague.
Racial traits
+2 to any Ability Score
Versatile Defense: Increase your Defense by 3%.
Heroic Effort: You gain an additional Heroic Feat point at levels 10, 15, and 20. These three extra feat points cannot be used on the paragon feat table.
Names
Random names for humans are composed of a first and last name.
Female first names include: Ana, Cassi, Eliza, Gwenn, Jenn, Kat, Keira, Luusi, Mari, Mika, Miri, Shawna, Stasi, Zanne
Male first names include: Alain, Alek, Benn, Brandis, Donn, Drew, Erik, Gregg, John, Kris, Marc, Mikal, Pieter, Quinn, Regdar, Samm, Thom, Wil
Last names include: Armorsmith, Chandler, Droverson, Fiedlerson, Hawklight, Loyalar, Shieldheart, Silverkin, Swordhand, Urthadar, Windsailor
Customization
Hair
01
02
03
04
05
06
07
08
09
10
01
02
03
04
05
06
07
08
09
10

Eyes
01
02
03
04
05
06
07
08
09
10
01
02
03
04
05
06
07
08
09
10

Complexion
01
02
03
04
05
06
07
08
09
10
01
02
03
04
05
06
07
08
09
10