Welcome to the Official Neverwinter Wiki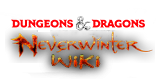 the Neverwinter compendium by the players, for the players.
We are currently maintaining 68,725 pages (50,604 articles).
Feel free to contribute by creating new articles or expanding existing ones.
Quick Links
Gameplay
---
---
Basics
---
---
Character Options
---
---
Classes
---
---
Races
---
---
Profession
---
---
Economy
---
---
World
---
---
Setting
---
---
Interface
---
---
Neverwinter Wiki
---
---
Outside Links
---
Participate
Have a page you'd like to add to the Neverwinter Wiki? Get started by giving your article a name and hitting "Create Page." Edits and improvements to existing pages are also appreciated.
Adding content

If you are unsure of what to do or how to create a page, search for a few articles on the same topic and see what they look like. You can always view the source code in a wiki and learn from what others have done.
An edit doesn't have to be massive; if you feel you don't want to create whole articles, then just fixing spelling errors and broken links is enough.
About
"
Neverwinter is a free-to-play, action MMORPG based on the acclaimed Dungeons & Dragons fantasy roleplaying game.

From the ashes of destruction, heroes will rise! Based on Dungeons & Dragons Forgotten Realms, Neverwinter offers an immersive fantasy-action experience for both longtime fans of table-top and newcomers alike. Expansions and updates bring original adventures as well as familiar faces from D&D storylines!

"
~ from the Cryptic Studios site
Release dates
PC
June 20, 2013
Xbox One
March 31, 2015
PS4
July 19, 2016
Neverwinter is set within the popular Forgotten Realms campaign setting for Dungeons and Dragons and uses mechanics based on a modified version of fourth-edition rules.