m

Line 3:
Line 3:
 

[[File:Pinata.jpg|thumb|A vicious Piñata prepares for battle]]

 

[[File:Pinata.jpg|thumb|A vicious Piñata prepares for battle]]

 
 
−

The {{uncommon|Piñata}} is a consumable that can be purchased during the [[Summer Festival]] for 50 {{Fireblossom Petal}}. When the item is used it spawns an immobile, non-attacking Piñata monster directly in front of the summoner. As the monster is damaged it will periodically drop random loot items nearby, and once killed it will drop random enchantments / runestones directly to the attackers inventory.

+

The {{uncommon|Piñata}} is a consumable that can be purchased during the [[Summer Festival]] for 50 {{Fireblossom Petal}}.

 
+
 
+

When the item is used it spawns an immobile, non-attacking Piñata monster directly in front of the summoner. As the monster is damaged it will periodically drop random loot items nearby, and once killed it will drop random enchantments / runestones directly to the attackers inventory.

 
 
 

The Piñata's loot can include:

 

The Piñata's loot can include:

Line 23:
Line 25:
 

*{{item|epic|Ancient Curio}}

 

*{{item|epic|Ancient Curio}}

 
 
−

Note that most of the Piñata's loot (outside of the enchantments / runestones once killed) will fall to the ground randomly near it and is auto-pickup and free-for-all. A character who neither summoned the Piñata, nor contributed to its defeat, could run around and collect the loot. If exclusive loot is desired going to an isolated spot or into a private instance (a foundry mission for instance) is recommended.

+

Note that most of the Piñata's loot (outside of the enchantments / runestones once killed) will fall to the ground randomly near it and is auto-pickup and free-for-all. A character who neither summoned the Piñata, nor contributed to its defeat, could run around and collect the loot. If exclusive loot is desired going to an isolated spot or into a private instance (a foundry mission for ) is recommended.

 
 
 

[[Category:Consumable]]

 

[[Category:Consumable]]
---
Revision as of 09:03, 9 September 2014
Piñata
Binds on Pickup
Recharge Time: 90
Use: Summon a pinata in front of you that you can hit for rewards. When the pinata is destroyed, some of the loot will magically fly into your inventory.
Filled with treats and surprises, a fun activity for parties.
Consumable
No Level Requirement
50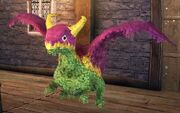 The Piñata is a consumable that can be purchased during the Summer Festival for 50
.
When the item is used it spawns an immobile, non-attacking Piñata monster directly in front of the summoner. As the monster is damaged it will periodically drop random loot items nearby, and once killed it will drop random enchantments / runestones directly to the attackers inventory.
The Piñata's loot can include:
Note that most of the Piñata's loot (outside of the enchantments / runestones once killed) will fall to the ground randomly near it and is auto-pickup and free-for-all. A character who neither summoned the Piñata, nor contributed to its defeat, could run around and collect the loot. If exclusive loot is desired going to an isolated spot or into a private instance (a foundry mission for example) is recommended.