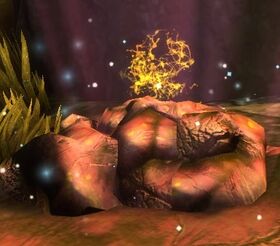 Emrae Firesky provides four saplings that need to be planted to hamper the blight.
Objectives
[
]
Plant 4 Enchanted Saplings in blighted soil patches to drive back the blight in the Deep Blight area of Blighted Grove in Sharandar.
Summary
[
]
Emrae Firesky
The injury to our forests inflicted by the dark fey blight will not heal by itself. We must re-seed.
With Corellon's blessings, my priests and I have infused these seeds with verdant energy. Plant them in the blighted woods, and they will grow and undo some of the damage that has been done.
Completion
[
]
Emrae Firesky
The dark fey's twisted mockery of magic is inferior to the grace of Corellon. With time and effort, we shall heal our forests.