Respen's Game is a randomly reoccurring calendar event that is part of the Day of the Dungeon Master. During the event the event-only campaign Respen's Game is unlocked.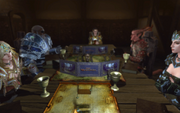 It is a special skirmish on randomized maps with comedic narration. Your character's normal appearance is altered to appear as a tabletop figurine that slides around the map.
A typical run will award 3

and a chance at other rewards. The dice can be spent at the event platform in Protector's Enclave.
Respen's Marvelous Game
A limited time
Event
Skirmish for all levels: Join your fellows and try out the wizard Respen's Marvelous new Game.
The Mysterious mage Respen Durothil calls all the heroes of Neverwinter to try out his marvelous new game.
To participate
You must be level 6 or higher and queue for the event using the button below or by pressing "k" on your keyboard. Many of the rewards are only available during this limited time event.
Rewards
Completing Respen's Marvelous Game gives you a chance at the following rewards:
Regardless if you gain these chance rewards, you will gain many [Crystal Dice] which you can spend in the store to purchase the following items:
Many of these rewards are only available during the Day of the Dungeonmaster, so get them while you can!
Gallery
[
]
External Links
[
]