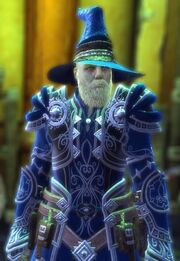 Drijm Stoneaxe has you go learn about Salvage.
Objectives
[
]
Note: There is no requirement to salvage anything as part of this quest, though as the ring granted to try it out has no combat stats salvaging or perhaps selling it is the logical path.
Summary
[
]
Drijm Stoneaxe
I've heard that the new Salvage Trader, Heironymous Glim, is trying to drum up business amongst you adventuring types. He's offering free salvage demonstrations to potential customers.
Actually they're better than free! He's paying people to do the salvaging! I'd hurry down there, this deal can't last long!
Dialogue
[
]
Heironymous Glim
Do you have any epic magic items to salvage?
Heironymous Glim
I am the wizard known as Heironymous Glim. I salvage epic magic items, unweaving the arcane threads used in their construction, reducing them to their component parts.
I know obtaining such powerful magic items is not easy, so I am willing to pay for such valuable with Rough Astral Diamonds.
Well met, Hieronymous.
What magic items can I salvage?
Heironymous Glim
You can salvage
level 60 epic magic items
in exchange for Rough Astral Diamonds. The amount of Rough Diamonds you receive depends on the value of the item offered.
Continue
How do I salvage an epic magic item?
Heironymous Glim
To salvage an epic magic item you must be standing near a salvage area, such as the one behind me.
Open your inventory and righ-click on an epic magic item - this will bring up the item options menu. If you are standing within the salvage area and an item is eligible for salvage, the "Salvage" option will be available.
Clicking on the Salvage option will bring up a window showing you the Rough Astral Diamonds you will get in exchange.
Continue
Thank you, Heironymous.
Completion
[
]
Heironymous Glim
Hello, *NAME*!
Yes, I am giving free demonstrations in the fine art of salvaging. I can answer any questions you have about how it works. In exchange for listening to an old man prattle on, I will give you small salvageable item to try your hand at.