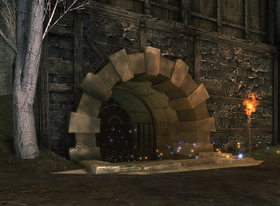 Objective
[
]
Search the Merchant Square Sewers east of the Neverwinter Guard Post and defeat the Nasher rebel leader Karr Nevrim.
Summary
[
]
Captain Janros
According to the dispatch you recovered from the dead courier, the orcs are not the only problems we have around here. There are reports of a holdout Nasher rebel cell led by a half-orc called Karr Nevrim operating in the sewers underneath Merchant Square.
Nevrim's suspected of shady dealings with the Many-Arrows Tribe, undermining the safety of the city. We need you to head into the Merchant Square Sewers and defeat this upstart before he becomes another Karzov!
Steps
[
]
Destroy the Nasher holdouts
Collect Reward
Leave the Sewers
Return to Captain Janros
Completion
[
]
Captain Janros
Fine work,
<name>
! Karr Nevrim was a nasty piece of work.
Walkthrough
[
]
There is no walkthrough for this quest yet. You can help Neverwinter Wiki by writing one.