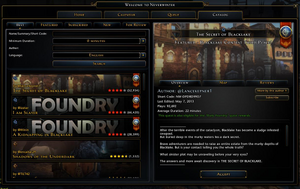 Neverwinter presents an opportunity to  design custom adventures for the game itself. These custom maps can be made using an in-game map editor and shared with all the players. This built-in toolset is known as "The Foundry."
"The Foundry gives you the tools to build dungeons, castles, cities, foreboding woods and everything in-between. Build NPCs the way you see them in your mind's eye and populate your world with tavern keepers and soldiers, Queens and scullions. Lay the groundwork for an epic adventure that takes players into the depths of the earth in search of dwarven treasure, or pits them against near impossible odds to save the city of Neverwinter." - official website excerpt
Here's an introductory video showing what we will be able to create using the Foundry, from PAX 2012. The video is narrated by Andy Velasquez, Lead Producer of Neverwinter.